I Am Profoundly Disturbed
I am profoundly disturbed.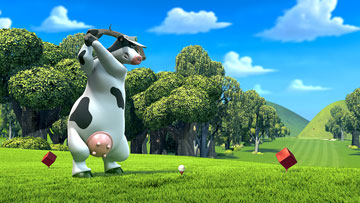 So I'm sitting nice and comfy in the movie theater and the lights turn out. The previews start, and up comes Barnyard. This offering from Paramount and Nickelodeon looks like it's the latest film to attempt to cash in on the CGI craze. The basic premise is pretty cute, and a little reminiscent of Toy Story - barnyard animals can speak, and do so when humans aren't around. From what I'm able to gather, it looks like the story is about Otis (voiced by Kevin James, Hitch, 50 First Dates), who seems a bit irresponsible. He likes to party, dance, order pizza, drive, mock the postman, and at one point, pushes an annoying boy out of a bed (boy-tipping). So in typical kiddie film fashion, this must mean that he learns responsibility at some point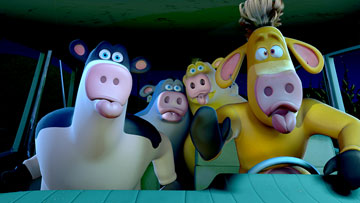 Other cows include his father Ben (voiced by Sam Elliott, Thank You for Smoking, The Hulk), Budd (voiced by John Di Maggio), Eddie (S. Scott Bullock), and Igg (voiced by Mauriche LaMarche, Team America: World Police, Hey Arnold! The Movie). The entire time I was watching the preview, something just didn't seem right, and I couldn't quite put my finger on it. Hmm...I had enough sleep the night before, and the food I ate for lunch wasn't causing any problems...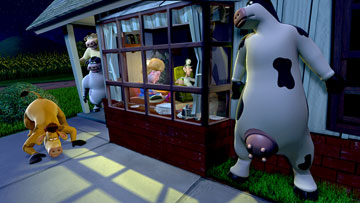 Then it hit me. COWS ARE FEMALE. I was watching a preview where female animals were being voiced by men. Does that mean the bulls are women? I can't tell. All I know is there's one scene where Otis is standing behind a postman. His hooves are behind his head, and he's shaking his udders at the postman. Yes, this literally is his "milkshake." Every time I see this preview it makes me feel a bit weirder. Especially now that I was aware of why I was initially weirded out.
So next time you see the trailer, just watch it and laugh. For all the wrong reasons.