Must-Watch Poker Themed Films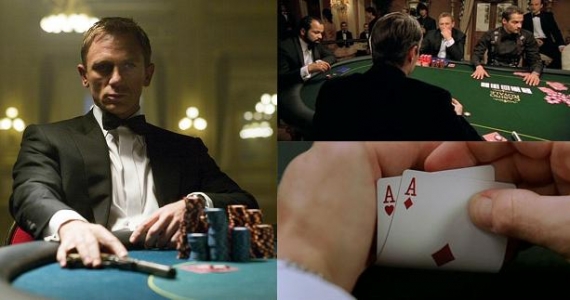 Blazing out of the gates of insignificance and into the appreciation of thrill-seeking, adrenaline-injecting, and oftentimes reckless enthusiasts, poker has not just invaded the world's most flamboyant casinos in Las Vegas, but also the fast-paced and glamorous world of the silver screen.
A lot of these high-rolling actors see poker as a way of de-stressing and relaxing after a long and grueling day of filming. With movie stars playing poker at a higher level - that includes Tobey Maguire who is rumoured to have pocketed over $10 million in prize money from high-stake home games, Ben Affleck who was once crowned with the California State Poker Championship, and Oscar-nominated actress and World Poker Tour regular Jennifer Tilly - it is no surprise that film and poker seem to complement each other. But is this unlikely partnership of poker and film comparable to the once overlooked endeavor of poker in the online world?
During the development stages of online poker, the hardcore community of card sharks raised their eyebrows at the idea of computer-generated dealers facilitating the games. But, as the number of trusted online poker sites grew exponentially, so did the faith of its players to engage more and dip their feet in its no-nonsense world. Online poker does not lessen the human element of poker, rather it provides aspiring poker players with a line of attack to polish their mental capacity before dancing with the big boys of live poker.
The game of poker has had a colorful past that goes hand in hand with its equally colorful combination of players' personalities. This particular setting has inspired film producers to make poker-related silverscreen gems. Among those are:
The Cincinnati Kid (1965) - In this Steve McQueen classic, his character, Eric Stoner, is out to prove his worth as a poker player and compete against Lancey "The Man" Howard played by Hollywood Golden Age actor, Edward G. Robinson. The film revolved around the Depression era of poker, and its climactic final felt table battle is definitely worth watching.
Maverick (1994) - The conniving duo of Bret Maverick (Mel Gibson) and Annabelle Bransford (Jodie Foster) provides a comic relief to the common Western classics. Based on a 1950s hit TV series, Maverick received rave reviews from film critics, and positive box office success, amassing $180 million during its theatre run. The film was even nominated for an Academy Award for Best Costume Design.
Rounders (1998) - A film credited for jumpstarting poker players' curiosity, this alliance of Edward Norton and Matt Damon explores the underground universe of high stakes poker. Though the film compiled mixed reviews, it still became an instant cult classic amongst poker fans.
Casino Royale (2006) - This is the blue-eyed Daniel Craig's first crack at the role of secret agent, James Bond. Based on author Ian Fleming's book series, the film's setting is at the start of James Bond's career as an MI6 agent. The action does not stop with Bond's guns and gadgets, because there is this see-it-to-believe-it scene in the movie of an epic showdown of poker hands.